Expertise and innovation: Building UltraSky skylights
Date: 23/05/17
Ultrasky manufacture skylights that combine high performance with a stunning timeless aesthetic. But it didn't all happen overnight! Our designs are based on years of experience within our manufacturing team, as well as a fair share of creativity and innovation. Here are a few of the principles we work to, to ensure that the roof lanterns we produce are amongst the best in the industry.
Use the best materials
When designing our skylights we sought out the highest quality specification of roof glass to make sure that our skylights look fantastic and perform brilliantly. We selected 'Conservaglass', a superior glazing product that is highly thermally efficient, deflecting heat in the summer and retaining warmth in the winter. This means that choosing an Ultrasky roof lantern will help you to keep your home energy efficient and your bills low. The glazing is also available in a range of colours, including blue, aqua and brown tints, so you can choose the colour that best suits your home design.
We also know that the 'best' materials are sometimes a matter of personal taste – that's why we give our customers the choice of different materials (either aluminium or PVC) and colours (white, anthracite grey or satin black), allowing you to create a bespoke roof lantern that perfectly complements the style of your home.
Build it to last
All our units are built to withstand the harshest UK weather and keep performing year after year. Our sealed units are made to our own 'recipes' and toughened with 4-16-4 safety glass. 'Conservaglass' glazing is also 'self-cleaning', which helps to keep maintenance to a minimum. We are so confident in the lasting quality of our products that we offer a 10-year guarantee as standard.
Keep improving
We're not resting on our laurels. We listen to feedback from our customers and update our product with innovative design adjustments to make sure that it remains amongst the best on the market. The strong ridge and superior spanning performance of Ultrasky products mean that our lanterns use less bars than our competitors', maximising the amount of light that enters the room below. We have also recently developed a new thermally insulated ridge end with a self-adhesive thermal shield.
Make things simple (for the customer)
Our roof lanterns may require years of experience to manufacture, but we strive to make our customer experience as quick and simple as we can. That includes installation, ordering and delivery.
Ultrasky products are straightforward for a builder or roofer to assemble and install. We use tapered fixings and our ridge and internal caps simply clip into place – so there are no short and fiddly screws and no trimming required. We have also minimised the amount of silicone required to seal our units and we deliver our roof lights in parts that can be lifted in to place, so you don't need a crane for installation. Our comprehensive technical guide provides step-by-step instructions to guide you through the process and if you have any questions you can call our technical advice line 5 days a week.
You can order both bespoke and 'off the shelf' roof lanterns online and pay by credit or debit card. Then one of our team will call you to confirm the order and arrange a delivery date.
Celebrate the results!
We have developed our products with care and expertise to create unique roof lanterns that are some of the highest performing in the industry. Now our roof lanterns are transforming homes and businesses across the UK, turning dark, cramped rooms into bright, airy living spaces and giving dated offices and dining rooms a new lease of life. We love hearing back from our customers and seeing the beautiful results that our skylights produce. You can see some examples of previous projects in our gallery.
If you are interested in our products and would like to talk to one of our team about how a roof lantern could enhance your home, please don't hesitate to call us on 01200 452 246. We are open 09.00 – 17.00, 5 days a week.
Buy Skylights Online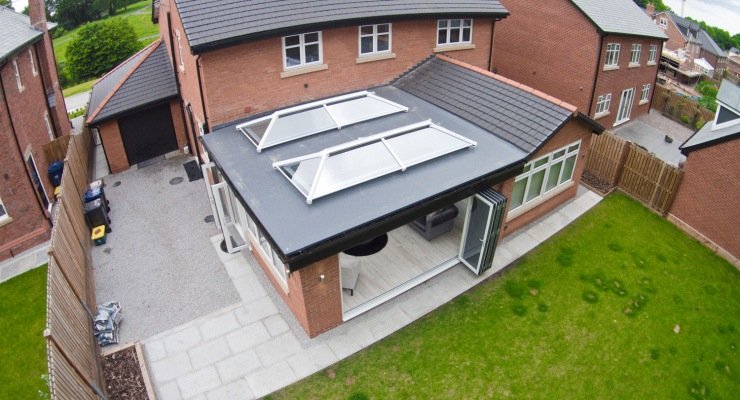 Order your Ultrasky Skylight online now or call 01200 452 246
to speak to the Ultrasky sales hotline.
Order lines open Monday - Friday 9.00am - 5.00pm
Ultrasky Case Studies