Have a dazzling bonfire night!
Date: 03/11/17
Rockets, bangers, bonfires, toffee apples and warming drinks – bonfire night is one of our favourite national festivals. It's a brilliant sparkling celebration at a time of year that can otherwise seem a bit cold and gloomy. It's also a great excuse to host a relaxed get together for family and friends of all ages. Here are a few tips from the UltraSky team on how to have a dazzling bonfire night (with a little help from a roof lantern).
Stay safe
The most important thing to think about on Guy Fawkes Night is how to celebrate safely. Fireworks, sparklers and bonfires all carry their risks. So the first step in your party planning should be to remind yourself of the all-important safety guidelines and advice here. Remember that fireworks should be managed by experienced and responsible adults and that enthusiastic kids need close supervision.
Invite a crowd
Bonfire night has something for everyone – from young children to the young-at-heart - so it's the perfect occasion to get relatives, friends and neighbours of all ages all together. And with lots of tasty traditional snacks to choose from it's easy to cater for large numbers. Stock up on sweet treats like toffee apples and gingerbread and have some hot drinks or soup to hand to warm up chilly hands if you're standing outside to watch a show.
If you're wondering how you are going to squeeze everyone in to your living room, perhaps it's time to invest in an extension? Single storey extensions are a popular way to expand your living space and create a modern, spacious, open plan family room. And an UltraSky roof lantern is an ideal addition to your new space – a stunning design feature and an effective way of bringing light flooding in to the heart of the room. Our roof lights are easy to fit in a new flat roof and add height and natural light to a room, helping you to create the spacious living area you need to host a sparkling party.
Beware the British Weather
While we hope for clear skies and a dry evening on 5 November, there's no telling what the great British Weather will throw at us, so it's best to be prepared. Make sure kids are wrapped up warm and take some big umbrellas or waterproof coats if you're heading out to a display. If you have a roof lantern, it's at this time of year that thermal efficiency really matters.
UltraSky roof lights are the most thermally efficient on the market. We use a thermally broken ridge and insulated bars and our superior Conservaglass glazing is both highly thermally efficient and toughened to withstand the worst of the UK weather. Our careful design and expert manufacturing will help to keep your home warm in the winter months. With UltraSky, you can look forward to returning to a warm and welcoming living area after an evening outdoors.
Cosy up
If you're lucky enough to have an UltraSky roof lantern already, then you might not even need to brave the elements to enjoy the fireworks. If there are fireworks close then your roof lantern gives you an ideal window through which to watch the rockets light up the night sky, from the comfort of your own sofa! And if it's a cloudy night, don't worry, just sit back and enjoy the atmosphere created by your elegant rooflight. After all, sometimes all your need for a celebration is good company (and a little help from UltraSky!).
Plan ahead
Call our customer service team today on 01200 452 246 to find out more about UltraSky roof lanterns and place your order. Invest in your home now, and next year your bonfire night will go off with a bang!
Buy Skylights Online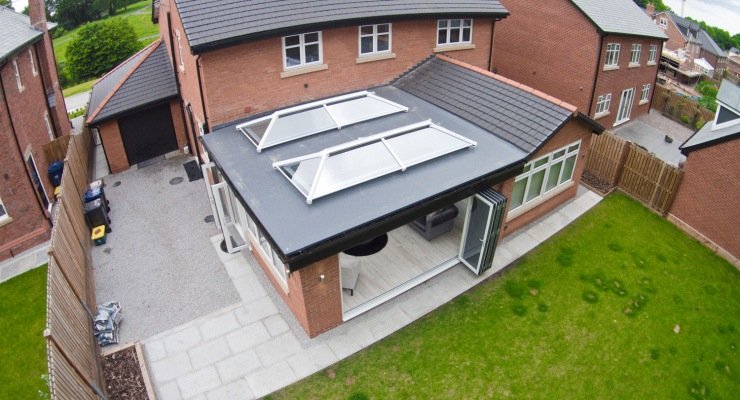 Order your Ultrasky Skylight online now or call 01200 452 246
to speak to the Ultrasky sales hotline.
Order lines open Monday - Friday 9.00am - 5.00pm
Ultrasky Case Studies