I'm dreaming of a light Christmas
Date: 19/12/17
At this time of year magazines and catalogues are full of pictures of elegantly decorated homes; from warm and welcoming hallways to dining tables big enough to seat all the family and spread with a magnificent Christmas dinner. If these beautiful model homes are making you dream of a bigger, brighter home to celebrate in, why not start planning a home improvement project for the New Year?
A warm welcome
Your hallway gives guests their first impressions of your property, so it's a great place to start updating your home. Many traditional entrance ways lack traditional windows and so can feel dark and cramped. Glass porches and glass panelled doorways let light in, but could compromise privacy and even pose a security risk. A roof lantern allows beautiful natural light in to your hallway and raises the height of the ceiling, creating an entrance way that is both welcoming and impactful.
You can also adapt your roof lantern to create a unique feature that matches your home's aesthetic. The exterior frames can be matched to your existing window frames, the interior cladding can be coated in a variety of colours and our superior Conservaglass glazing is available in different tints, so you can choose a combination that suits your style.
Space to entertain
For many of us, Christmas is about sharing good times and good food with family and friends. But if you're feeding a crowd it can be difficult to find space to fit everyone around the table. If you dream of a festive family feast in a spacious dining room, then you could consider expanding your living area with a single storey extension, enhanced by an Ultrasky roof light. Roof lanterns not only bring light in to the centre of a large space, they can also provide an elegant focal point for an open plan living area.
Our roof lanterns can be ordered in bespoke sizes and styles to exactly match your plans. We have years of experience in manufacturing glazed structures and we have used this expertise to develop an installation process that is simple and straightforward. The ideal time to size, order and install your lantern is as part of a new extension, so if you're extending your home don't miss the opportunity.
Family festivities
Christmas is always a busy day and on Christmas Day itself we often have to juggle playing with the kids, opening presents and cooking the all-important Turkey. A contemporary open plan kitchen and living space allows you to be in two places at once! And with an Ultrasky roof lantern your living area can be big, bright and cosy all at the same time. Our lanterns are manufactured with a premium quality glazing and a thermally broken ridge, which makes them the most thermally efficient roof lanterns on the market. We also achieve greater spanning distances with fewer bars than our competitors, allowing the maximum amount of light into the room below.
Trade prices
If you're thinking that these luxury home improvements are out of your price range – think again! Ultrasky products are premium quality, but we sell all our lanterns at trade prices. We also build to exacting standards and check each lantern individually before delivery, so you can be assured that you are investing in an exceptional product that will bring light and elegance to your home for many years and many Christmases to come.
Treat yourself this Christmas. Call our friendly customer service team on 01200 452 246 Monday - Friday 9.00am - 5.00pm to start planning your dream home or use the calculator on our homepage to get an instant quote.
Buy Skylights Online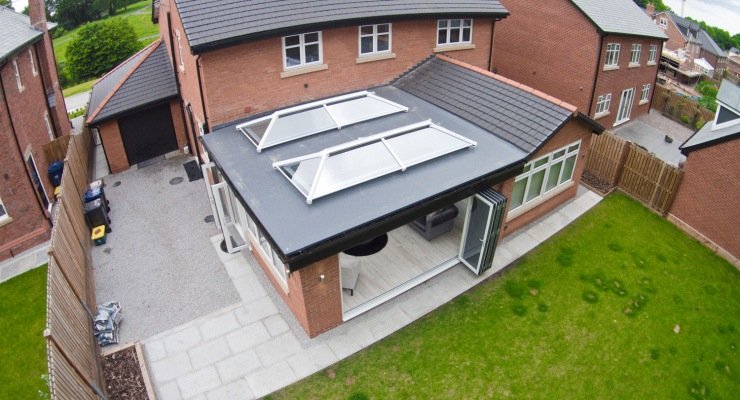 Order your Ultrasky Skylight online now or call 01200 452 246
to speak to the Ultrasky sales hotline.
Order lines open Monday - Friday 9.00am - 5.00pm
Ultrasky Case Studies