Plan for perfection
Date: 27/11/17
Installing a roof lantern doesn't need to be a hassle. With a little planning, and some clever Ultrasky design features, you can achieve exceptional results with ease.
What's your vision?
Perhaps the most exciting part of a home renovation project is imagining how you want your finished home to look and feel. Are you hoping to build a bigger living area? Create an open plan kitchen/dining room? Or add value to your home with a modern extension? An Ultrasky roof lantern could be the perfect addition in every case.
The best and easiest time to install a lantern is to build it in to a new flat roof, for instance as part of a single-storey extension. The elegant, contemporary designs of our roof lights make them an ideal centrepiece for this kind of development and roof lights are very effective at bringing natural light in to the heart of a large room. Have a look at our gallery for some inspiring pictures of how others have used UltraSky in their homes.
Ask the experts
Whatever your project, the best time to think about adding a roof lantern is in the early planning stages. If you're taking on a major renovation, it's always a good idea to seek advice from an architect and take care that you have all the right planning permissions in place before you start work. Ask your architect to incorporate a roof lantern in to your plans and talk to them about which size and style will best fit with your property.
Order to fit
We offer bespoke sizes and designs, so you can order your roof lantern to the exact specifications detailed in your plans. Instead of spending hours searching for the right lantern for your project – you can simply order an Ultrasky lantern with exactly the look and feel what you want. Sizes reach up to 4m* long x 2m* wide and you can choose between aluminium or PVC options to match your existing frames or create a modern contrast. We also offer a number of different colours of glazing and finishes including white, anthracite grey or satin black coatings for the internal claddings.
Premium results
Our experienced customer service team can help you to choose the right design for you and our expert manufacturers will get to work on your bespoke lantern within 24 hours of your order being placed. We use only the highest quality materials for our products, including superior Conservaglass glazing which helps to ensure excellent thermal efficiency. We finish and deliver each individual product with care, so that you can be assured that your roof lantern will arrive on site looking every bit as perfect as you planned.
Call 01200 452 246 today to start turning your plans in to a reality.
Buy Skylights Online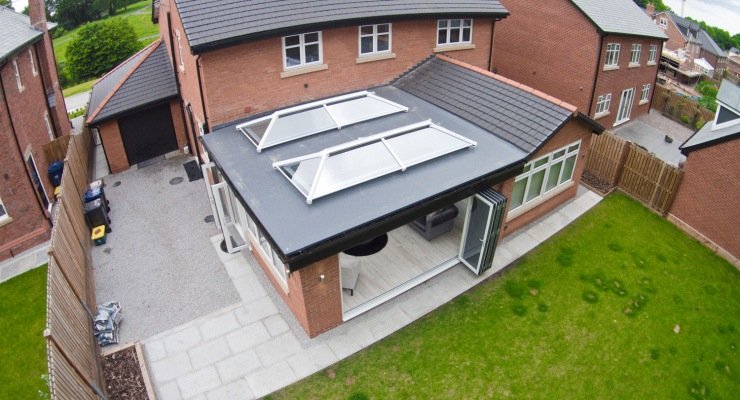 Order your Ultrasky Skylight online now or call 01200 452 246
to speak to the Ultrasky sales hotline.
Order lines open Monday - Friday 9.00am - 5.00pm
Ultrasky Case Studies