Skylight solutions for single storey extensions
Date: 18/04/17
Single storey extensions are a popular way to update and expand a property. They are a great way to add a contemporary open plan living space to a terraced or semi-detached house, increasing its value and making older properties more suitable for modern living. But there are some important drawbacks to this type of development that should be carefully considered before you embark on a new project. Privacy, lighting interior rooms, ceiling height and thermal efficiency are all crucial to the success of a new extension.
Luckily, Ultrasky can help! Our stunning contemporary skylights can help you to create the bright and airy living area many home buyers look for.
Making Space
The main objective of most extensions is to increase the square footage of the property. Adding a single storey extension at the rear of a property can transform a small, dark kitchen or lounge into a modern open plan living space - perfect for homeowners looking for an area where the whole family can cook, eat and socialise. Yet a low ceiling can dampen the atmosphere of a room and leave a spacious extension feeling smaller than it is.
Roof lanterns are a brilliant way to add ceiling height and light to a new extension. All Ultrasky lanterns are expertly manufactured in a sleek, modern design and come in a range of glazing and cladding options to enhance any home design.
Privacy
Glass doors and large windows let lots of light in to a room, but they also leave a living area vulnerable to being overlooked by neighbouring properties. This not only reduces the homeowner's privacy, it can also be a threat to home security. Side windows in terraced properties may also be shaded by neighbouring properties or high boundaries. Installing a skylight in a single storey extension allows you to bring beautiful natural light in to the room, while keeping nosy neighbours out! And to make sure that our roof lanterns let in the maximum possible amount of light, Ultrasky roof lanterns have superior spanning performance and use less bars than competing brands.
Lighting interior rooms
A significant, but often overlooked, drawback of many single storey extensions is that they can turn existing rooms into interior spaces, without exterior walls. This makes it difficult to bring natural light in to these areas. Skylights provide an easy solution by bringing light right in to the heart of a property. Ultrasky skylights can be fitted on existing or new flat roofs and come in standard and bespoke sizes to fit your requirements. All our products are straightforward to fit and built to last.
Thermal efficiency
Home buyers are increasingly concerned with the energy efficiency of their new home. Adding a lot of new glazing as part of a home development can reduce the property's efficiency rating. Don't let heat loss take the shine (or value) off your new extension! Ultrasky products use the highest quality Conservaglass glazing. Conservaglass deflects heat in the summer and retains warmth in the winter, while also filtering out harmful UV rays. It is toughened against the worst UK weather and is self-cleaning. All our roof units also feature a thermally broken ridge and insulated bars. This makes Ultrasky roof lanterns some of the most thermally efficient skylights on the market.
Invest wisely
Home development can be a great way of making a profit on your property, but every project needs to be carefully considered and appropriate planning permission should always be sought. Single storey extensions may seem like a simple, on-trend choice, yet they are not without pitfalls. Make sure you choose the right products and designs to deliver a development you will be proud to put your name to.
To discuss your design choices and requirements with one of our experienced Ultrasky sales team today, call 01200 452 246. Or use our simple measuring guide and skylight size calculator to work out the size you need and get an instant quote.
Buy Skylights Online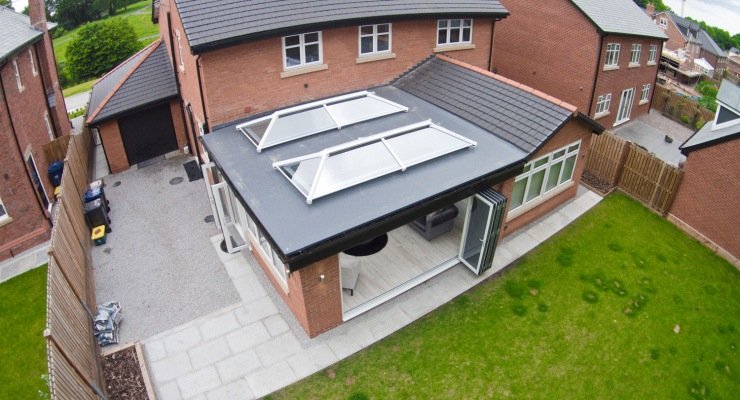 Order your Ultrasky Skylight online now or call 01200 452 246
to speak to the Ultrasky sales hotline.
Order lines open Monday - Friday 9.00am - 5.00pm
Ultrasky Case Studies