Why single storey extensions are hot property
Date: 05/06/17
If you're in the property development business, or you're planning your own home improvements, you might be considering investing in a single storey extension. And you're not the only one! Browsing for design ideas, you'll no doubt have seen countless images of stunning single storey extensions splashed across the pages of home improvement magazines and websites. So why are single storey extensions so much in demand? We've put together a list of reasons why single storey extensions are about much more than just adding square footage.
Value for money
Adding square footage is one of the most reliable ways to add value to your property, but extensions can be costly and for some home owners a double extension may be out of reach. A single storey extension can provide a more affordable way to invest in your home and with some intelligent design features you can make sure that you get the maximum benefit from your space.
Adding a roof lantern can increase the feeling of spaciousness in your extension by flooding the whole room with light. Roof lanterns can bring light in to areas where traditional windows can't, brightening up any forgotten gloomy corners and allowing you to make full use of every inch of the room. Ultrasky skylights are manufactured according to our own unique design which has a better spanning performance and uses fewer bars than other roof lanterns on the market. This ensures that the maximum possible amount of light enters the room below, giving you an airy, bright extension that feels even bigger than it is!
Open plan living
Traditional terraced or semi-detached homes with small kitchens and separate living and dining rooms are not designed for modern family life. Adding a single storey extension is an ideal way to open up your ground floor and create a flexible, spacious living space where you can cook, eat, socialise and relax with family or friends. If you're constantly multi-tasking then a space where you can cook dinner, watch TV and keep an eye on the kids, all at the same time, is a must!
Natural lighting via a skylight or roof lantern (especially one with highly thermal efficient glazing) will ensure that your open plan area is welcoming and bright all year round. It will also help to achieve a fresh contemporary design that will attract house buyers looking for a multi-functional practical space that's still got a stylish edge. A roof lantern with aluminium frames, for example, can create a stunning architectural centre piece.
Planning
If you're worried about getting planning permission for a double extension, then opting for a single-storey design can provide a simple, effective alternative. Depending on the size of the addition, single-storey extensions don't always require planning permission. They can also be sensitively designed to fit seamlessly with the rest of your property or your street. At Ultrasky, we're experienced in manufacturing bespoke roof lanterns in a range of materials, so you can select a design that suits the character of your property.
Remember, it's always best to read up on planning and building regulations to make sure you know what will be required for your development and consider seeking professional advice.
Stay on trend
If you're looking for a more affordable way to update your home and increase its value, then a single-storey extension is a clever, contemporary solution. It's little wonder that they are proving popular! Add a stunning roof lantern to your plans and you'll be ready to transform your home from a dark and dated property in to a stunning new space ideally suited to modern family life.
For more information about Ultrasky roof lanterns download our product brochure today or call our friendly customer service team on 01200 452 246. We love hearing about our customers' ideas and plans, so don't hesitate to call us to discuss your project. We're open 09.00am – 17.00pm, 5 days a week.
Buy Skylights Online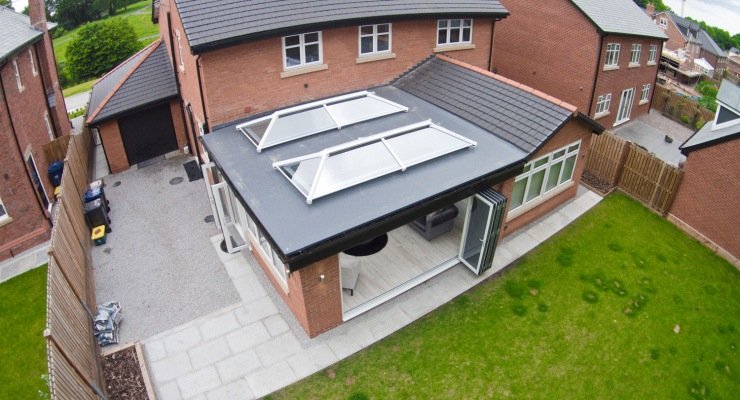 Order your Ultrasky Skylight online now or call 01200 452 246
to speak to the Ultrasky sales hotline.
Order lines open Monday - Friday 9.00am - 5.00pm
Ultrasky Case Studies